Nordic Homes Grande at Cityland: an Instagram-Worthy Staycation in Tagaytay City
By Anne Elizabeth Apolona Gumiran - 8:33 AM
I have always marked the first two days of November as the time to be spent with my family. Just then, I just realized that it was among the longest weekend of the year and everyone at home badly wamted to chill somewhere. My grandma and grandpa were also looking forward to going somewhere, too, but they can't travel far. Because I can never say no to my family, I searched for the nearest AirBnB online where we can check into during this weekend. I was so delighted upon seeing a big unit of the famous Nordic Homes available on a weekend and on a holiday! I booked the room right away, then, we're all set.
The Nordic Homes is located at Cityland along Tagaytay-Calamba Road. Tourists have been eyeing its units as they are more than just a place to stay and spend a night in. Each unit has a unique, instagrammable, minimalist interior design equipped with all the necessary stuff. Apart from it, it also just a few minutes away from the points of interest in the city such as the Sky Ranch, People's Park in the Sky, the hippie Dreamland Cafe, Thrift shops in Olivares plaza, Mahogany Market and more. Convenience is guaranteed when checking into Nordic Homes as a bank, coffee shops, fast food restaurants, malls such as Fora and Ayala Malls Serin are just within the reach. If you do not have a private car and you want to roam around, there are e-tricycles just outside the lobby at the ground floor.
Our Nordic Homes Grande Experience
It was a long weekend plus there were two consecutive holidays. This did not bother us until we realized that it took us an hour from home to Cityland and found out how crowded the lobby was when we arrived. Everyone was in line checking in. The elevators were all full that we had to wait for long for our turn. It actually took us more or less twenty minutes to check in. Upon meeting the staff from the Nordic Homes, we hurried to the elevator and to the 16th floor.
The staff opened the door for us. What a lovely one, I exclaimed. Everything is just what I wanted it to be. What I saw in the photos was what's in front of me. Definitely not an expectation versus reality.
The room was already cool when we arrived and it was filled with a familiar cloyingly sweet scent. I loved the white-washed brick walls and the black and white illustrations in a frame. The unit with a floor area of 33.5 sq. m. is maximized as everything is in the right place in every corner. We were not solely confined into the room as we also got an alfresco experience by the balcony. the glass windows across the room made the sky an extension of the room adding a more relaxing vibe. Bored, we were not as there were a lot of stuff to do. The unit has a 43" Smart TV with Netflix, Wi-Fi, Jenga, PlayStation 4 and few books to read.
We did not dare go anywhere as we know so well how busy the streets and roads of Tagaytay City are on days like these. We were actually six, my mom, my brother, cousin, grandma and grandpa annd the space was just enough for us. Space for sleeping wasn't much of a problem since we were provided with extra mattresses, blankets and linens. We just enjoyed lazying around on a bed weather with each other's company at unit 1616.
What's in Nordic Homes Grande
1. The Double Bed
The room only has one double bed but there are also extra mattresses, pillows and blankets provided. The sofa itself, on the other hand, can be transformed into a double bed.
There are actually no beds such as the one at the left. I just positioned the extra mattress by the window. Two extra mattresses were available at the unit perhaps as we booked for seven people.
2. The Kitchen Cupboard
The kitchen cupboard is situated just right a few steps from the door. It is equipped with rice cooker, exhaust hood, microwave oven, oven toaster, coffee maker, compact refrigerator, eating and cooking utensils, plates, glasses and mugs. A portable induction cooker is available upon request. A deposit of Php 1,000.00 is required.
3. The Receiving Area
The sala set includes one center table and one sofa. A comfortable place to sleep isn't much a problem shall a group of seven check into Nordic Homes Grande since the sofa as aforementioned can also be transformed into a bed.
4. Workstation
One of my most favorite part in the Nordic Homes Grande is the workstation. It is at the wall beside the receiving area. There is a small rectangular table, study light and outlets just below it. I love how minimal the design of the area is. There's just this framed black and white illustration on the wall just a foot or two above the table. There is a can holding different coloring pencils and few table top stuff to add up to the place's aesthetics.
5. The Television Set
A Smart TV is fixed on the wall across the the double bed. It has been logged into a Netflix account and it is connected to the unit's very own Wi-Fi. Guests can literally Netflix and Chill all day. Apart from Netflix, the guests can also enjoy playing with the PlayStation 4.
6. Bathroom and Toilet
The bathroom and toilet are in two separate doors. Hot and cold shower is available in the unit's bathroom. The owner has also provided the guests with body wash, shampoo and towels.
7. Balcony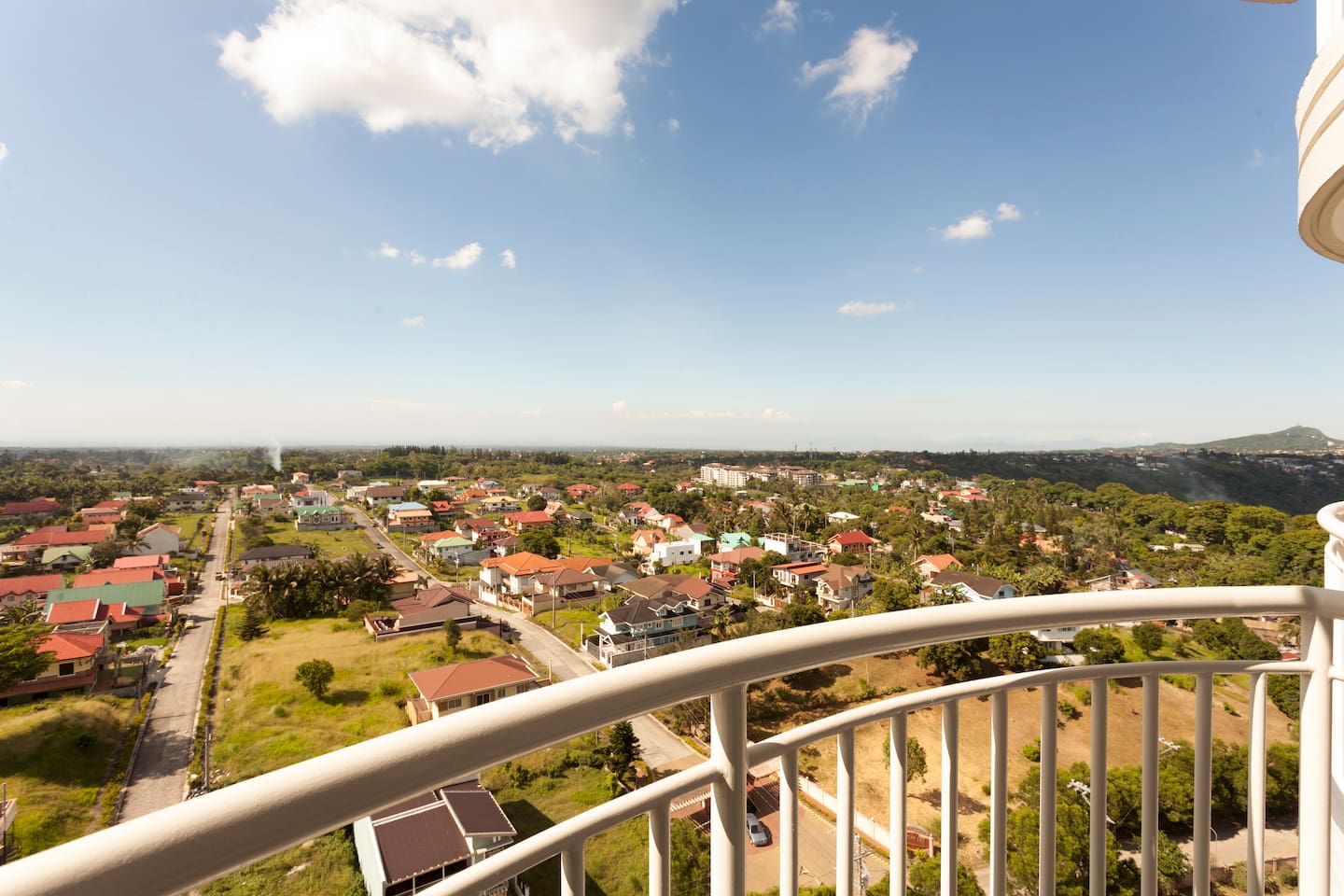 If you need a breath of fresh air, the unit also has another door to a small balcony. It does not have a view of Taal Volcano as it is facing the other side of Tagaytay. The view though would relieve you from the plain white and minimalist interior of the room.
The Facilities
1. The Swimming Pool
The swimming pool is located the third floor of the building and the guests can use it for free. However, it gets too crowded especially on weekends and holidays. To avoid the overcrowding at the pool, the management has limited the number of guests that can be accommodated to 50 and on a first come, first serve basis. The pool is open from 6:00 AM to 10:00 PM. Wearing of swimming attire is a must. The pool is closed every Monday to Thursday for its cleaning. Up to four guests per room is allowed.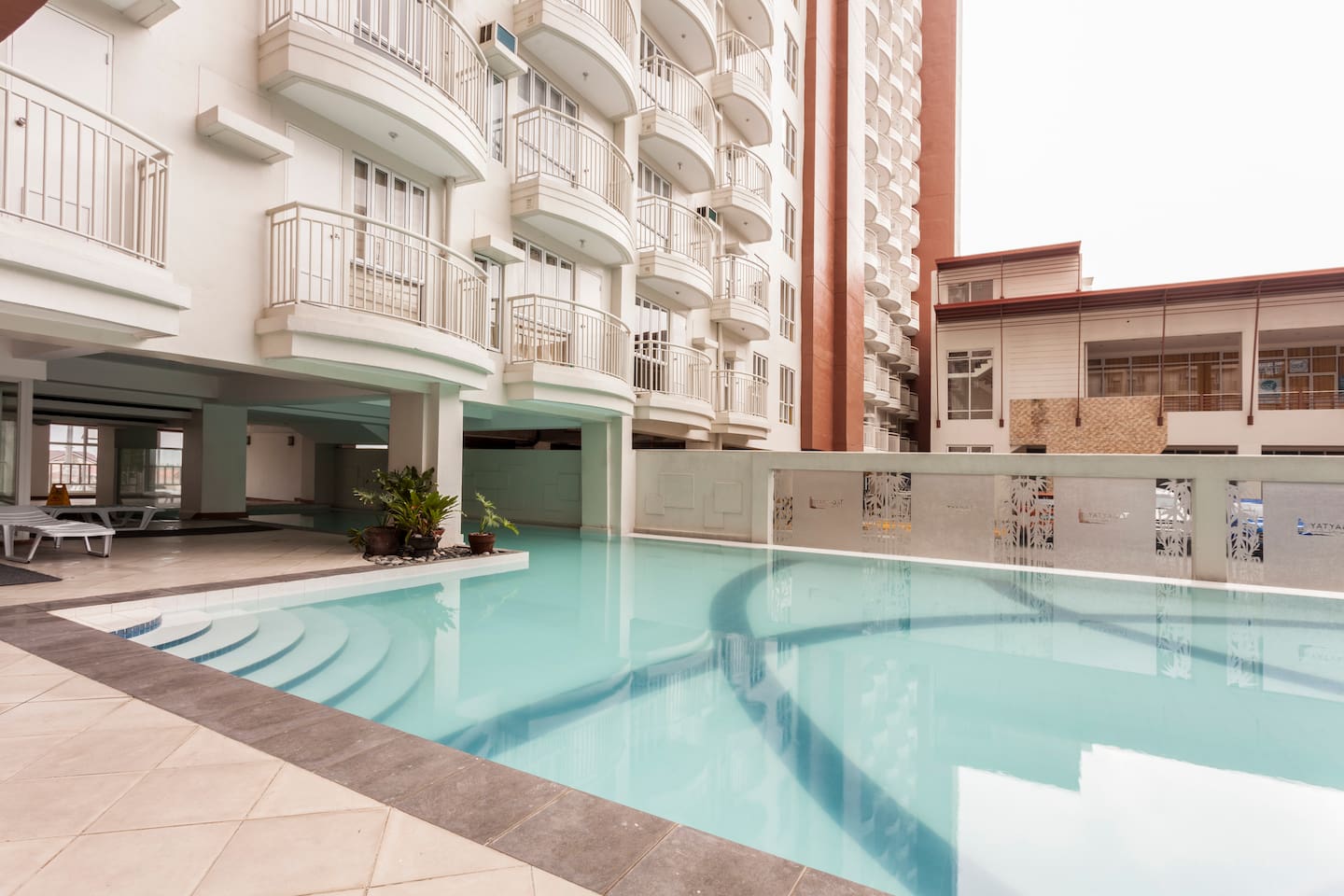 2. The View Deck
Since Nordic Homes Grande is facing the side of Tagaytay City without the view of Taal Volcano, guests can go up to the View Deck located at the 24th floor of the building to get a spectacular view of the city and Taal Lake.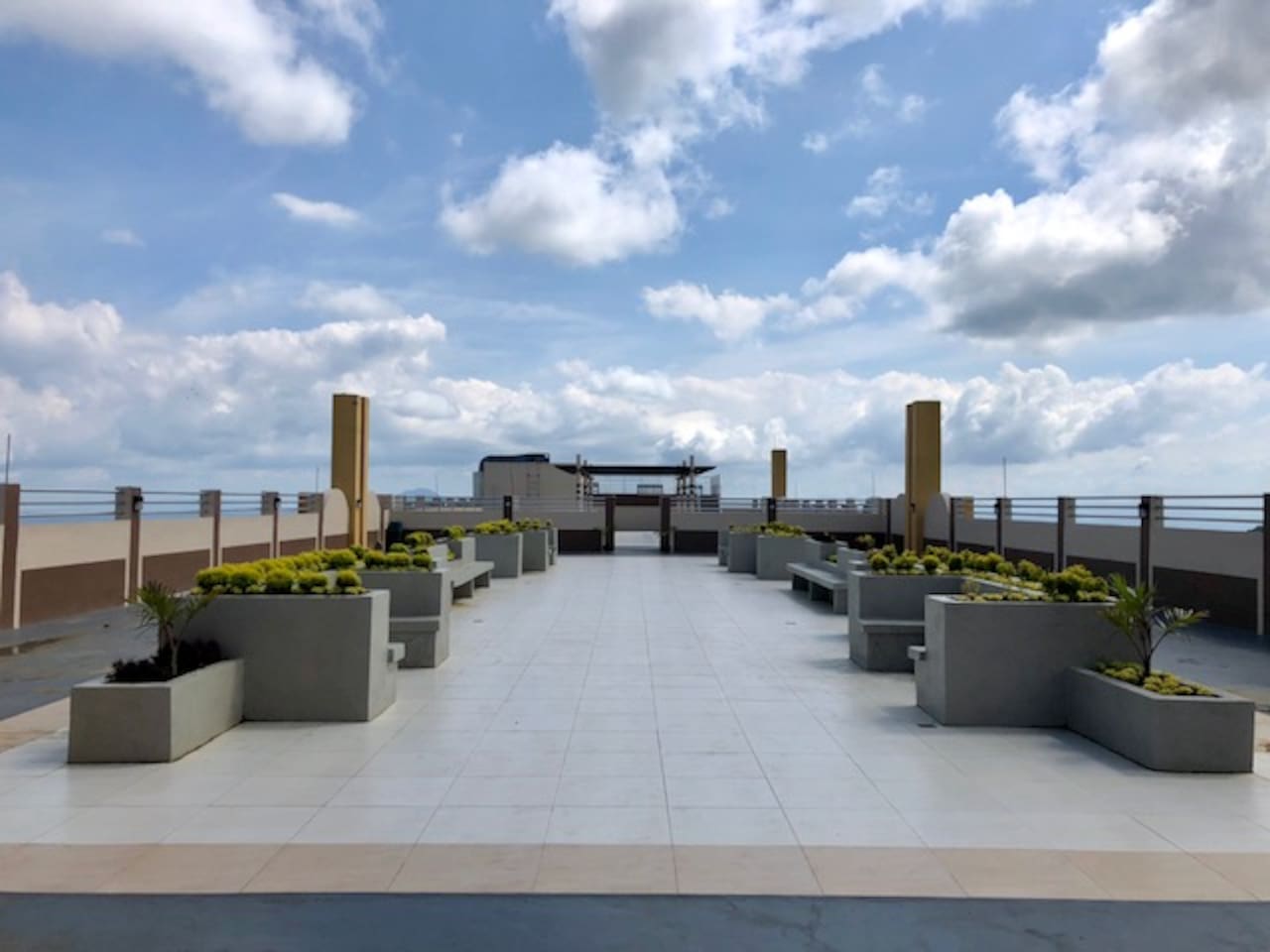 Nordic Homes Grande Rules and Regulation
1. Check in time is at 2:00 PM and check out is at 12:00 NN. Guests must proceed to the third floor to register and meet the staff from Nordic Homes.
2. Pets are not allowed.
3. Grilling and Frying food inside the unit is not allowed. The unit owner is very strict about the cleanliness of the unit itself and lingering cooking odors has a corresponding fine (Php 1,000.00 deposit).
4. Induction stove is available upon request. Guests must deposit an amount of Php 1,000.00 for this.
5. Guests are encouraged to take the garbage chute at the bin near 1619 unit.
6. Key cards shall be taken care off. Lost or damaged key card means a fine of Php 1,000.00.
Love how they maximize they space!

Booking Nordic Homes Grande
1. Sign up for an AirBnB account
here
. You may get Php 1,600.00 to Php 2,200.00 off on your first trip after signing up.
2. Search for Nordic Homes Grande Tagaytay City.
3. Key in the dates of your stay and the number of guests and click Book.
4. Submit the names of the guests whom you will be coming with.
5. Confirm the booking and pay. Take note that they do not accept cash. They only accept payment through AirBnB, Debit or Credit Card.
6. Check the booking confirmation on your email.
How to Get There
Option A: From Pasay or Buendia
1. From Pasay or Buendia, take a bus bound for Nasugbu, Lian, Calatagan, Mendez or Alfonso. Alight at Olivares Plaza. Travel time is around two to three hours. Fare ranges from Php 89.00 to Php 98.00.
2. Take a tricycle (at the bus stop near 7/11) and tell the driver to take you to Cityland.
Option B: From Alabang
1. Take a van at Festival Mall. First trip usually leaves at 10:00 AM. Fare is at Php 85.00.
2. Alight at Cityland.
Nordic Homes Rates
There are 13 Nordic Homes in Cityland with each having a unique style and size. Take note that the following rates are based on the published rates on AirBnB. These rates are on a 22-hour basis and for two persons. Rates may vary depending on the season (peak or off-peak). An amount of Php 300.00 per person is added on top of the indicated rates. Service and cleaning fee are not yet included.
Units at the 16th floor
1. Nordic Gem - Good for two to five persons; starts at Php 1,500.00 a night
2. Nordic Pearl - Good for two to five persons; starts at Php 1,500.00 a night
3. Nordic Jewel - Good for two to five persons; starts at Php 1,500.00 a night
4. Nordic Dream - Good for two to five persons; starts at Php 2,200.00 a night
5. Nordic Soleil - Good for two to seven persons; starts at Php 2,600.00 a night
6. Nordic Grande - Good for two to seven persons; starts at Php 2,700.00 a night
7. Nordic Santorini - Good for two to seven persons; starts at Php 1,800.00 a night
8. Nordic Star (with Taal view) - starts at Php 2,700.00 a night
Units at the 23rd floor
9. Nordic Crystal (Penthouse) - Good for two to five persons; starts at Php 2,400.00 a night
10. Nordic Chic (Penthouse) - starts at Php 2,184.00 a night
11. Nordic Cool (Penthouse) - starts at Php 2,400.00 a night
12. Nordic Diamond (Penthouse) - starts at Php 2,200.00 a night
13. Nordic Vogue (Penthouse) - Good for two to seven persons; starts at Php 2,200.00 a night
The Verdict
My family and I actually enjoyed our stay at Nordic Homes Grande. It was a smart choice for those who would like to enjoy the cool weather and the awe-striking views in Tagaytay City on a weekend. Just a piece of advice to those who are thinking of visiting the city on a holiday or a weekend, you must be ready and patient enough with the traffic jams and crowded swimming pool. Also, if you're thinking of booking Nordic homes, make sure that you'll do it several weeks before your trip as these usually get fully booked.